The E22-400M30S is a high quality LoRa wireless module from EBYTE using the SX1262 chip. The E22 series is one of the first wireless modules to adopt Semtech's SX1262 and SX1268 RF chips. This chip provides a variety of modulation methods, such as LoRaTM and traditional GFSK. Its special LoRaTM modulation method increases the communication distance.
This module is configured via software for frequencies between 410~493 MHz. The correct antenna has to be used for the programmed frequency. Typical frequencies would be 433MHz in Europe(EU), and 470MHz, 486MHz and 487MHz(China).
These modules are designed and manufactured with quality in mind. High quality capacitors and German Wurth wire wound inductors are used. A temperature compensated crystal oscillator is used for timing, which is critical for low error long distance LoRa communication.
To view the PDF Datasheet, click here.see this page:
99tech.com.au/m/lora-e22-400m30s_usermanual_v1.20.pdf
For additional information, see the manufacturer's product page.product page:
www.ebyte.com/en/product-view-news.aspx?id=454
Features
IC: SX1268 with PA (Power Amplifier)
Frequency: 410~493MHz
Power: 30dBm
Distance: 12km
Interface: SPI
Parameters
| | | |
| --- | --- | --- |
| RF Parameter | Value | Remark |
| Working frequency | 410~493 MHz | - |
| Transmitting power | 30 dBm | Max. Power (160mW) |
| Receiving sensitivity | -150 dBm | - |
| Air data rate | 0.018k~300kbps | - |
| Test distance | 12,000m | In open and clear air, with maximum power, 5dBi antenna gain, height of 2m |
| | | |
| --- | --- | --- |
| Hardware Parameter | Value | Remark |
| Size | 24 * 38.5 mm | |
| Antenna type | IPEX / Stamp hole | |
| Communication interface | SPI | |
| Package | SMD |   |
| | | | | | |
| --- | --- | --- | --- | --- | --- |
| Electronic parameter | Min. | Typ. | Max. | Unit | Condition |
| Power supply | 2.5 | 5 | 5.5 | V | |
| Communication level | 1.8 | 3.3 | 3.7 | V | |
| Transmitting current | 600 | 650 | 700 | mA | 30dBm(1W) |
| Receiving current | 12 | 14 | 16 | mA | |
| Sleep current | 1 | 3 | 5 | nA | |
| Operating temperature | -40 | 20 | +85 | ℃ | |
| Operating humidity | 10 | 60 | 90 | % | |
| Storage temperature | -40 | 20 | +125 | ℃ | |
Pins
| | | | |
| --- | --- | --- | --- |
| Pin No. | Pin Item | Pin Direction | Pin Application |
| 1 | GND | - | Ground |
| 2 | GND | - | Ground |
| 3 | GND | - | Ground |
| 4 | GND | - | Ground |
| 5 | GND | - | Ground |
| 6 | RXEN | Input | RF switch RX control,connecting external MCU IO, valid in high level |
| 7 | TXEN | Input | RF switch TX control,connecting external MCU IO or DIO2, valid in high level |
| 8 | DIO2 | Input/Output | Configurable IO port(see more in SX1262 datasheet) |
| 9 | VCC | - | Power supply, 2.5V~5.5V(external ceramic filter capacitoris recommended) |
| 10 | VCC | - | Power supply, 2.5V~5.5V(external ceramic filter capacitoris recommended) |
| 11 | GND | - | Ground |
| 12 | GND | - | Ground |
| 13 | DIO1 | Input/Output | Configurable IO port(see more in SX1262 datasheet) |
| 14 | BUSY | Output | State indicator(see more in SX1262 datasheet) |
| 15 | NRST | Input | Chip reset initiation, valid in low level |
| 16 | MISO | Output | SPI master input slave output |
| 17 | MOSI | Input | SPI master output slave input |
| 18 | SCK | Input | SPI clock |
| 19 | NSS | Input | Chip select,for starting a SPI communication |
| 20 | GND | - | Ground |
| 21 | ANT | - | Stamp hole(50 ohm impedance) |
| 22 | GND | - | Ground |
Additional Information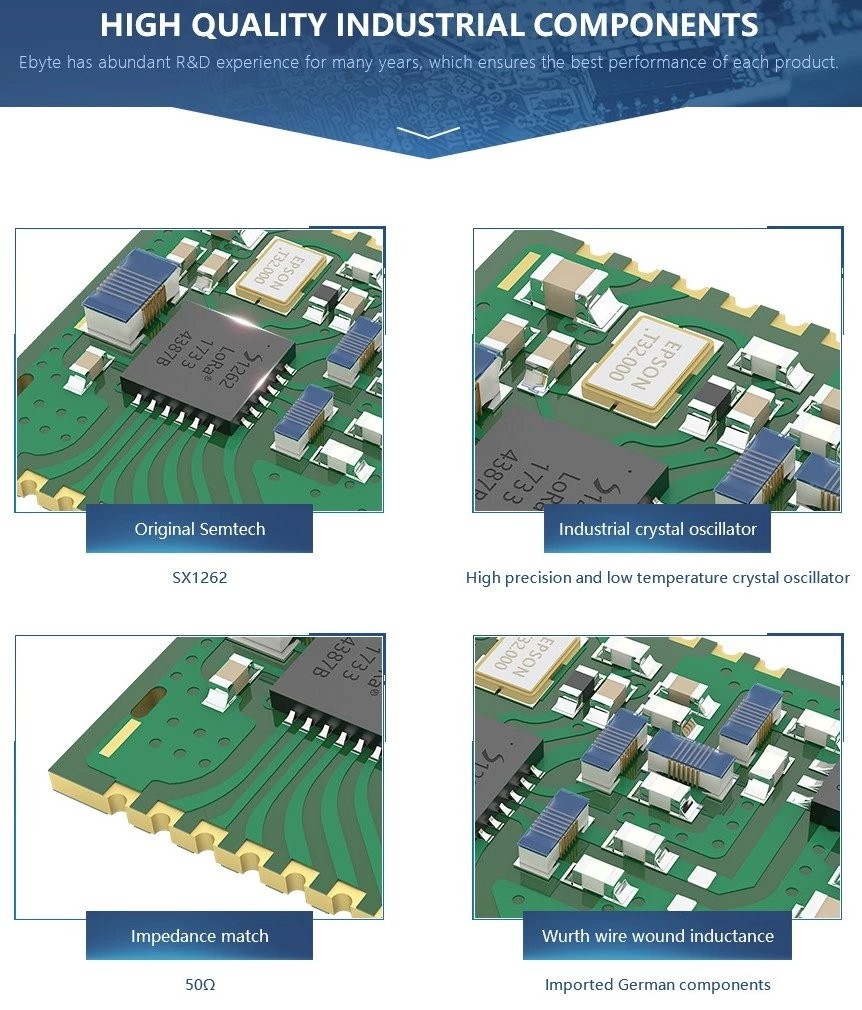 Package Includes
1 x Wireless Module